A diving-par-excellence tour!
*7-day Island-Hopping tour.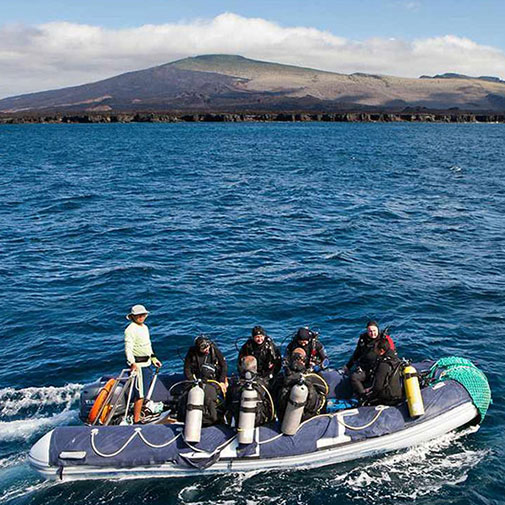 Antoine feeling about this tour
This 7-day diving tour on the Galapagos archipelago will satisfy divers with and without experience. Indeed, unlike a cruise in the Galapagos Islands which is dedicated only to divers or only to non-divers, our "Galapagos diving" tour satisfies both types of travelers. Some days are divided into two distinct visits: one for diving, the other for a naturalist visit.
Without impacting the budget, you will fully enjoy your passion, and friends or relatives who do not wish to scuba dive will discover the charm and beauty of the Galapagos Islands by land. You can always check our Selection of Diving Cruises in Galápagos for having a better idea of the available accommodation we offer for an unforgettable diving tour.
Physical Difficulty



Culture and Visits



Nature and Activities



Recommended for


Day 1
Day 2
Day 3
Quito (or Guayaquil) > San Cristobal island
San Cristobal; Diver (Kicker Rock) Non-diver (Isla Lobos)
San Cristobal island > Santa Cruz island
Day 4
Day 5
Day 6
Santa Cruz island; Diver (Cousins Rock / Bartolome) Non-diver (Bartolome island).
Santa Cruz island; Diver (Gordon Rock) Non-diver (North Seymour island)
Santa Cruz island; Diver (Mosquera Sur / Seymour) Non-diver (South Plazas island)
Day 7
Santa Cruz island > Baltra > Quito
Tour highlights :
– Possibility of diving or carrying out available naturalist visits.
– Two immersions during "diving" days aboard a beautiful sailboat.
– Overnight stays on two different islands
– Charming hotels, depending on the chosen accommodation category
– Visits to uninhabited islands.
Explore in more detail :