Take a look at our exclusive Galápagos cruise-selection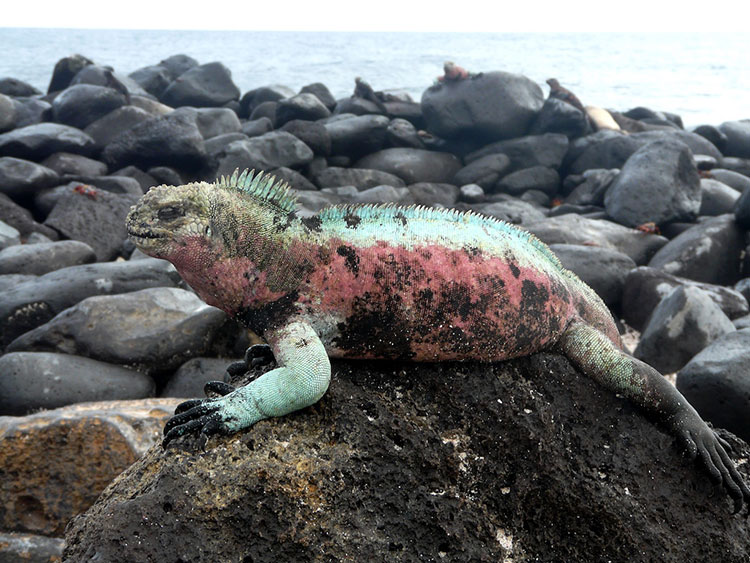 Santa Cruz Wildlife:
As the second largest island, which is also called Indefatigable, Santa Cruz Island is the most populous island in the Galapagos archipelago. It has 15,000 inhabitants including 12,000 inhabitants at the Puerto Ayora Port.
Find out more...
General information
The island itself is a huge volcano that rises inland at 864 metres. Experts estimate that the last eruption took place over 1 million years ago. Santa Cruz Island was settled in 1920 by a group of Norwegians who planned to make fishing their main activity. Their project did not work out as they wanted, so they went to heights to dedicate more to agriculture. Today, there are still descendants of these Norwegians on the island.
Main sites
Academy Bay
This is a site near Puerto Ayora, is a natural port that allows us to observe sea lions that roam as well as lava formations that appear on the sea surface. Usually, the visit to Academy Bay begins at the port prior to visiting "las Grietas", "Loberia", etc.
Bachas Beach
Named after the ships that were wrecked off the coast during World War II. Today, it is a pleasant beach for swimming with a lagoon behind, and is perfect to observe the local flora and fauna. This saltwater lagoon is ideal to view big heroes and little ones. Besides, the beach is a nesting area for sea turtles that leave their tracks behind, especially from November to February.
Ballena Bay
It is a green sand cove which is located on the west coast of Santa Cruz Island. The beach contains a large amount of olivine crystals, which come from volcanic material. Near the beach, there are traces of pottery that prove the presence of human inhabitants in the place during 19th century. This site was indeed an ideal route to ascend the heights of Santa Cruz Island with an objective to collect fresh water.
Black Turtle Cove
A beautiful mangrove lagoon where it is easy to spot several sharks and rays. Besides, it is a breeding ground for sea turtles, depending on the season. As the water is translucent and beautiful, we recommend that you board a canoe to tour the lagoon.
Carrion Point
Located near the eastern mouth of Itabaca Channel, between Baltra and Santa Cruz Islands – is a Galapagos dive site that is also known as Punta Carrion. This is a simple and often introductory dive. Indeed, it has several characteristics of diving in the Galapagos like the rocky slopes. Moreover, you can spot creatures that are almost always present such as sea lions, creole fish, etc..
Cerro Dragón
Cerro Dragón allows a walk to the salt lake that is located behind the beach, where it is possible to observe several flamingos. We advise you to go to the Dragón Hill since it offers a nice panorama over the bay. Besides, it is a breeding ground for land iguanas.
Charles Darwin Station
A renowned centre where scientists study various endemic species of the Galapagos Islands, including the famous land tortoise George*, the last of its species.
George sadly passed away in June 2012, ending his species. .
Garrapatero
Being a beautiful beach located near Puerto Ayora, it allows you to meet marine iguanas, sea lions, and perhaps Galapagos sharks.
Los Gemelos
Los Gemelos (the twins) are two, huge, collapsed lava chambers (craters), which serve as a reminder of just how powerful nature is. It is possible to take a short, easy hike around the craters to observe the rich endemic flora and fauna, including the ever-present Scalesia Forest.
Primicias
located on the island heights, harbours giant Galapagos tortoises. It is an ideal place to observe these specimens in a semi-freedom area.
The Lava Tunnels
They can be found at the heights of Santa Cruz Island. About 3 metres high and 5 metres wide, these famous tunnels prove how forcefully a volcano can expel its lava. It is possible to walk several hundred metres in one of the tunnels.
Tortuga Bay
Tortuga Bay, a beautiful beach near Puerto Ayora, is made up of white sands. Lovely waves wash up here, and it is home to marine iguanas, blue-legged boobies, and seabirds. It offers soul-deep relaxation for sure.