Take a look at our exclusive Galápagos cruise-selection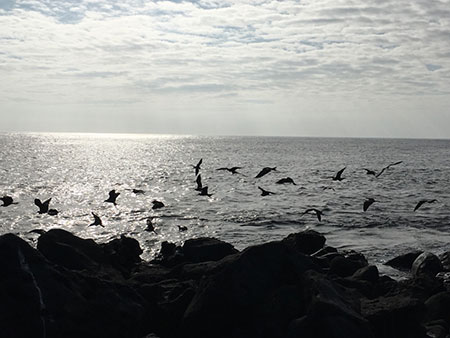 San Cristobal Wildlife:
Populated by 5,600 inhabitants and being the most easterly island of the Galapagos archipelago, San Cristobal Island and its port Baquerizo Moreno are both very charming. It is not uncommon, in fact, to meet sea lions in the port, basking on public benches by the sea.
Find out more...
General information
Although less lively compared to Puerto Ayora on Santa Cruz Island, Baquerizo Moreno port is more peaceful while it still offers plenty of restaurants and bars.
San Cristobal, which is a name that comes from the patron saint of sailors (Christopher), also has the second airport in the Galapagos Islands. Therefore, it is possible to end your tour or cruise of the Galapagos in San Cristobal.
San Joaquin Mountain, which is 730 metres above sea level, is the highest point on the island.
Main sites
Galapaguera Centre
La Galapaguera Centre allows you to observe giant tortoises in a semi-freedom state. It is a breeding and reproduction centre that aims to preserve the species. It will be possible to approach a few specimens up close. Most of the turtles will then be released into the open ocean.
Interpretation Center
Created with the help of the Spanish government, it gives a good introduction to the Galapagos Islands human and natural history.
Lobos island
Located to the north of San Cristobal Island, it is a spectacular island that allows you to observe a variety of impressive fauna such as sea lions, blue-footed boobies, etc. A 2-hour-long walk leads one to the top of an imposing rock cliff where it is possible to see the sea in the distance.
Kicker Rock -Leon Dormido-
Leon Dormido is a famous site. It is a volcanic formation that pierces the Pacific Ocean from a height of 148 metres. In this volcanic rock, a channel has formed over the past centuries. It is possible to jump a boat here and swim between the two peaks where you can spot rays, whitetip sharks, and with any luck or dread, hammerhead sharks.
Junco Lagoon
Situated on the San Cristobal Island heights, it is famous for frigate viewing. Indeed, this freshwater lagoon offers the possibility for these majestic birds to wash the sea salt that is deposited in their wings.
Pitt Point -Punta Pitt-
Located to the north-east of San Cristobal, it is a magnificent site that is one of the only two places in the Galapagos archipelago. There, you can observe the three races of madmen as well as the large frigates, dove tail gulls, etc. A walking tour, which is a little physical with climbs and descents, can be done in 1 hour and 30 minutes of walking.
Tijeretas Hill
Located a few hectometres away from the port of Baquerizo Moreno, Tijeretas Hill allows a walk of about 2 kilometres. There is a beautiful view of the deep blue sea here, where you can notably observe frigates.
Witch Hill -Cerro Brujo-
It was one of the first sites that was visited by the biologist Charles Darwin. It offers a fascinating lava landscape and a beautiful white sand beach. Located on the north-east coast of San Cristobal Island, you can spot boobies, seagulls, and some pelicans here. The protected bay is much loved by sea turtles and rays!