ITK Voyage: Ecuador-based receptive travel agency
The English-speaking ITK voyage receptive travel agency was created by two French childhood friends, Antoine Grouazel and Pierre Brière. From idea to idea, in 2009 they concluded that the right time had come to create their travel agency in Ecuador and the Galápagos and thus offer tailor-made tours and stays in this fabulous country.
Antoine
Born in Sarthe and originally from Bretagne – a region close to his heart – Antoine began his language studies at the University of Rennes in 2003, to join 2 years later the professional university for leisure, environment, sport, and tourism ( LEST) from Valence. He then went on to the University of Chambéry (IMUS), to obtain his master's degree in economics, tourism option.
Read more...
After having met Laetitia at the university Antoine undertake his professional career in Mozambique -Where he stayed several months-. It was there that he learned the receptive travel agency tourism fundamentals, he also organized diving and safari travels.
Always with the company of Laetitia, he decided to fly to Quito- Ecuador where he worked for over a year in a receptive travel agency with the aim of specializing and very well getting to know Ecuador & Galápagos as a travel destination. The destination that nowadays ITK travel offers to its clients. Tailored travels, across the four words ( Amazon rainforest, Galápagos, Andes, and Pacific coast ) of Ecuador
During your trip, Antoine (or Fernando), thanks to their knowledge of the field will certainly and precisely design your Ecuador & Galápagos travel, answer your questions, and clear your concerns.
Antoine, what are your passions?
I love football, cycling, and sports in general, but particularly "nature sporty activities" such as trekking, climbing, glacier ascents, etc. My other passion is to travel, discover new cultures, and beautiful landscapes!
What do you like to do in your free time?
Enjoy my family, go trekking with friends, run, listen to music and watch "Le tour de France" in July.
Which region of Ecuador do you like the most?
Without question, the Andes, because of the the « playground » it offers for carrying out nature sports. Its calm and human-free natural spaces. I also love the Galápagos Islands, with the omnipresent wildlife and the ocean it is another world!
Antoine Grouazel
ITK Voyage Manager & Founder
Laetitia
Born in Lyon-France but spent her childhood in Franche-Comté. That is where she got a taste for the good French cuisine, having a "weakness" for the charcuterie and white wine. Laetitia is very proud of her Vietnamese and Senegalese roots (paternal grandparents' heritage)
Read more...
Having obtained a BTS -Bachelor of Tourism Studies- Laetitia continued her studies at the Professional University in leisure, environment, sport, and tourism (LEST) in Valence-France where she met Antoine ( ITK Voyage manager).
They worked together in Mozambique for a Receptive tour Operator which will encourage them to work more in the tourism field. They studied one last year at the Management institute in the Savoie University (IMUS) of Chambéry-France in order to obtain a Tourism Management Master. Eventually, Laetitia come to Ecuador and first, worked for two years in an important English-specialized tour operator in the country then, two years more for a French travel agency. Finally in 2013 Laetitia join the French-Ecuadorian team, the ITK Voyage travel agency team. With the will of putting her skills to good use and share with her travelers the beauty of this small yet rich country.
From now on, Laetitia is your specialist for a new superb tourist destination, Colombia! Laetitia is the ITK Voyage Colombia manager. Being based in Bogotá -Colombia capital- Laetitia, his responsiveness and kindness are at your disposal to help you tailor-design your travel.
Laetitia, what are your passions?
To travel, the sports (body combat, steps, dance) to read, French cinema, encounters, and laugh or make people laugh!
What do you like to do in your free time?
Enjoy my friends, go swimming and dancing on weekends.
Which region of Ecuador do you like the most?
The amazon rainforest brings me incredible serenity. I love to let myself be rocked by the river during canoe trips and the night walks in search of jungle wildlife. I very much appreciate the weather during sunny days and the food is excellent! I love very much the Andes too, because of the landscapes and indigenous population mainly.
The Galápagos, petit paradise on earth! I love the weather, landscape, beaches, and incredible wildlife. Snorkeling is one of my favorite activities.
But I especially love Quito with its historic center, the most beautiful in South America, a UNESCO heritage site. During the day, the streets are bustling and you can still see the typical local population. In the evening, the center lights up and we have a breathtaking view of the monuments… And let's not forget Friday and Saturday evenings when the atmosphere is rhythmic in "la Ronda" street.
Fernando
I am 29 years old, Ecuadorian from my father and Colombian from my mother's side. I was born in a small Andean and a very picturesque village called Pimampiro. Very young I had the chance to live a couple of years in the Ecuadorian Amazon rainforest (although at that time I didn't see it as a "chance" but rather like total isolation). After that time, my family and I moved to Quito where I could study and get a job.
Read more...
In 2014 I started working in the hotel industry, at the same time I learned English. While working here I fell in love with the tourism sector.
For a few months now I joined the ITK family where I am in charge of developing a new market (English-speaking market) while learning French at a time.
Fernando, what are your passions?
My passion is more in the cultural field: history, Andean and amazonian beliefs, and extreme sports.
What do you like to do in your free time?
Playing the guitar, see sports on you-tube, and going out with my son wherever it is.
Which part of Ecuador do you like the most?
The Amazon Rainforest: the biodiversity that surrounds us, take a walk in the heart of its dense and unpredictable vegetation, its unique nocturnal charm when hundreds of animal sounds break the silence of darkness, the immense rivers that make their way through the forest and especially its people who make life seem easy while in such hostile environment.
But I also love the northern colorful Andes of Ecuador, home to people who have managed to preserve their ancestral customs which they gladly share, daily, through simple conversations and interactions. A real cultural mosaic!
Finally, I love the Quito Historic Centre, a historical and religious jewel where many corners remain to be discovered.
Fernando Ramos
English-market Head
ITK Voyage Ecuador & Galápagos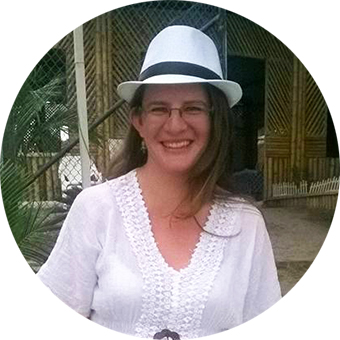 Carolina Segovia
Operations Head
ITK Voyage Ecuador & Galápagos
Carolina
Born in Portoviejo – Ecuador -1979- a village located on the Ecuadorian Pacific coast where she stayed until she was 7 years old, then she moved to Quito. In the Ecuadorian capital, she studied computing (more precisely, computer software design).
Not thriving in his work and with the desire to accomplish more, Carolina decided to change her field. In fact, she was first the administrator of a restaurant "The mango gourmet" whose manager and founder was her husband Lex. With fluent French –that he learned in Paris- for him, it was a pleasure to make you taste his economical and plentiful. "almuerzos".
Read more...
Carolina is married since 2007. From this marriage, was born who is now a young man, Elias. Carolina speaks Spanish and she loves the French language; we will try to fix that! But one thing at a time…
Currently, Carolina is the head of ITK voyage operations. With great professionalism, she will handle the reservations and the smooth running of your trip here!
Carolina, what are your passions?
Reading and walking.
What do you like to do in your free time?
Playing with my son Elias and… sleeping!
Which part of Ecuador do you like the most?
La Sierra (the Andes) in addition to the magnificent volcanic landscapes there we find peace and tranquility. I love to breathe the fresh and pure air of the Ecuadorian volcanic region.
María
I was born in Quito-Ecuador – in a small village known as the Chagras (the equivalent of "gauchos") Capital in 1993, the village where I also grew up. I am 28 years old and I still live in Quito with my husband and our little son who is my whole life 🙂
My professional life has always been around the tourism industry. Indeed, I worked for about seven years for different hotels in the capital. From September 2021 I work for ITK Voyage in which I hold the Operations Assistant position.
Read more
María, what are your passions?
J'adore passer du temps en famille et connaître des nouvelles régions d'Equateur. Mon pays étant petit, il a l'avantage d'offrir des sites fantastiques rapidement accessibles.
What do you like to do in your free time?
Playing with my son and taking care of him. He's more important than anything to me.
Which part of Ecuador do you like the most?
I love the Ecuadorian pacific coast, its isolated beaches, and the weather!
María Bohórquez
Operations Assistant
ITK Voyage Ecuador & Galápagos