Breathtaking landscapes across the Andes mountains!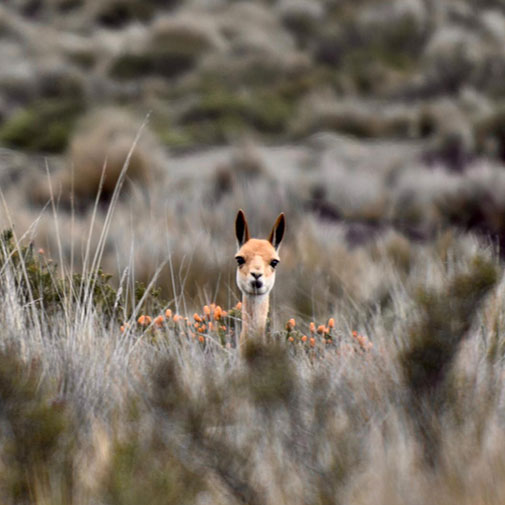 FERNANDO'S WORD OVER THIS TOUR
For the hike and trek enthusiasts, this challenging tour is the perfect opportunity to discover the most breathtaking landscapes and trails across emblematic natural reserves in the Ecuadorian Andes, spanning 11 days. The expedition will take you across the Quilotoa Lake, Cotopaxi, Antisana & Chimborazo reserves, making it an adventure par excellence.
"Highland expedition 1" is actually the first part of this adventure, which takes place in the charming Quilotoa lake and the sublime Chimborazo reserve. Also referred to as the "Vicuñas Trek", the program entails a 360º hike around the Chimborazo volcano colossus. Although challenging, this fascinating adventure is highly rewarding and provides an opportunity to connect with nature -by staying in refuges, hotels, or camping- in completely-isolated places, while enjoying the omnipresent view of the highest volcano in Ecuador, whose summit is indeed the closest point to the sun!
Read more
You have the option to start with either the first or second part of this integral adventure across the Andes, or you may choose to do only one of them. Regardless of your decision, both the Highlands expedition 1 & 2 are truly magnificent!
Physical Difficulty



Culture and Visits



Nature and Activities



Recommended for


| Day 1 | Day 2 | Day 3 |
| --- | --- | --- |
| Quito > Zumbahua (market) > Quilotoa Loop (day 1) | Quilotoa Loop (day 2) > Riobamba | Riobamba > Chimborazo: Vicuñas Trek (day 1) |
| Day 4 | Day 5 | Day 6 |
| Chimborazo: Vicuñas Trek (day 2) | Chimborazo: Vicuñas Trek (day 3) | Chimborazo: Vicuñas Trek (day 4) > Quito |
Tour highlights :
– Completely private tour in Ecuador, in the Andes, with your English-speaking guide.– 6 days of discovery -in an exceptional natural atmosphere-.– Chimborazo Reserve & volcano discovery– The challenging yet rewarding Vicuñas trek – Hike around the magical Quilotoa lake