Between the volcanoes alley and the Amazon rainforest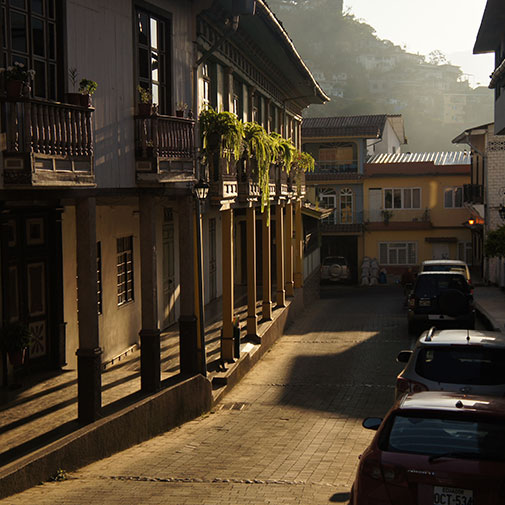 LAETITIAS'S WORD OVER THIS TOUR
In 17 days, our stay in "Picturesque South Ecuador" will allow you to complete your stay with the most picturesque region of the Ecuadorian Andes. This beautiful and authentic region will make you see the little exploited other side of Ecuador.
The climate is milder there, the city of Vilcabamba attracts many North Americans in search of quietness for retirement. You will twice have the opportunity to visit Podocarpus Park, on the Zamora side and the Vilcabamba side. You will also discover the colonial Loja town which is an example of cleanliness and recycling, a pioneer town in Ecuador.
Read more
You will pass, during your stay, through Zaruma town which is a mining town. You will immerse yourself in ancient gold mines in the heart of Ecuador's most beautiful village. The south is not the most visited region, but it is one of the nicest surprises you will have on your trip to Ecuador.
Physical Difficulty



Culture and Visits



Nature and Activities



Recommended for


Day 1
Day 2
Day 3
Day 4
Transfer-in to Quito
Quito visit
Quito > Cuicocha lake> San Clemente
San Clemente
Day 5
Day 6
Day 7
Day 8
San Clemente > Cayambe > Sangolqui > Cotopaxi
Cotopaxi > Tigua
Tigua > Zumbahua > Quilotoa > Riobamba
Riobamba > Chimborazo reserve > Guayaquil
Day 9
Day 10
Day 11
Day 12
Guayaquil > Churute > Zaruma
Zaruma > Vilcabamba
Vilcabamba
Vilcabamba > Zamora > Parc Podocarpus > Loja
Day 13
Day 14
Day 15
Day 16
Loja > Cuenca
Cuenca > Ingapirca > Cuenca
Cuenca
Cuenca > Cajas national park > Guayaquil
Day 17
Departure transfer to Guayaquil
Tour highlights :
– Completely private tour in the country, with English-speaking guide.
– Visit the colonial towns of Quito, Cuenca, and Loja.
– Discovery of 3 isolated and picturesque Indigenous markets.
– 5 days in the extreme south of the country which is an authentic region with very little tourism.
– 2 nights in the Amazon in a charming lodge.