Take a look at our exclusive Galápagos cruise-selection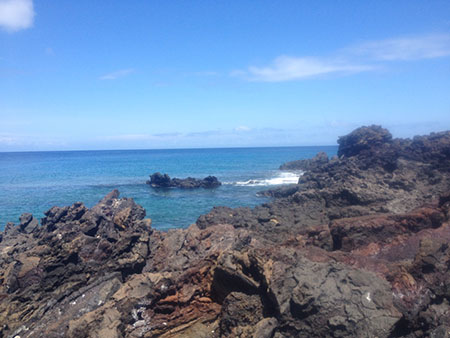 Santiago Wildlife:
Santiago Island is also called San Salvador or James Island. The eruptions of its two volcanoes make the highest point of the island reach 907 metres in height. Exceptional relief and geology awaits you on this Galapagos island.
Find out more...
General information
A little over a century ago, the island gave birth to a lava field called pahoehoe (a Hawaiian term that identifies the type of lava), which shines brightly. In fact, imagine the molten lava that flows into the sea and cools down. The lava flows formed a gallery of abstract shapes, magnificent!
Main sites
Sullivan Bay (Puerto Egas)
Sullivan Bay is just across a narrow channel that is to the west of Bartolomé Island. It is one of the most remarkable volcanic sites in the Galapagos. During the walk, you will find enigmatic caves that are populated by fur seals; the only place during your visit that allows you to see these magnificent marine mammals on a shore excursion. You disembark on a coral white sand beach and begin your walk on this striking expanse of lava.
Espumilla Beach
It is a beautiful site where you can observe marine iguanas that stroll and crabs that attract the herons that hunt nearby. Besides, it is a great place for swimming with fins, mask and a snorkel. You can indeed come across a very rich marine fauna! Octopuses, morays, sharks, and many tropical fish are present.
Buccaneer Cove
Buccaneer Cove is testament to the fact that Santiago Island was once a landmark for buccaneers. Indeed, they anchored in this protected bay to rest and stock up, in particular turtle meat. This is a great opportunity to take photos of the craggy cliffs, where hundreds of seabirds perch, facing the beach made of dark red sand. You will try to find the "monkey" and "elephant" stone before your guide shows them to you!