Take a look at our exclusive Galápagos cruise-selection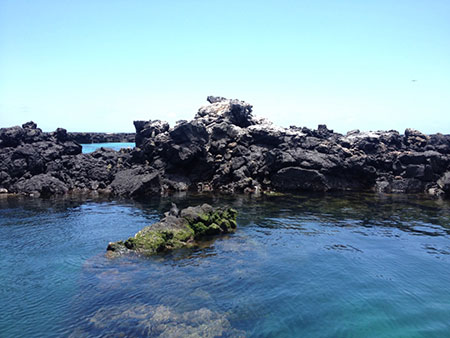 Isabela Wildlife:
Being populated by 2,200 people, Isabela Island, which is also known as Albemarle, is the largest island in the Galapagos archipelago. Indeed, Isabela is about 100 kilometres long. It is named after the famous "Queen Isabela of Spain" who financed the famous expedition of Christopher Columbus.
Find out more...
General information
Isabela is one of the most recent islands of the Galapagos archipelago as evidenced by the presence of 6 volcanoes (Alcedo, Cerro Azul, Darwin, Ecuador, Sierra Negra, and Wolf), of which 5 are still active. This is one of the most volcanic places on the planet! Therefore, many volcanic landscapes are observable on Isabela Island.
Main sites
Giant Land Tortoise Breeding Centre
Located at a distance of 1.5 kilometres from Puerto Villamil port, is open to visits. The specimens live in captivity, and you can find a total of 330 turtles; the goal is to release them afterwards on the Isabela Island heights.
Concha de Perla
Located only a 10-minute walk from Puerto Villamil port, is a beautiful, calm cove, where it is possible to swim in the company of a few sea lions, sea turtles, and many tropical fish in transparent water.
Elizabeth Bay
A unique place where you can navigate by canoe through the red mangroves (no disembarkation). Elizabeth bay is known for its marine life. You will likely observe sea turtles and rays swimming on the surface of the water. You may also see brown pelicans looking for fish, Galapagos penguins, blue-footed boobies, and occasionally even humpback whales (between June and September).
Humedales
Located close to Puerto Villamil, is a mangrove area that is classified as a RAMSAR site (international organisation which classifies and protects the world-wide wetlands). Humedales has a unique biodiversity of flora and fauna including the flamingo and marine iguanas.
Moreno Point
Punta Moreno is located to the south-east of Elizabeth Bay. You can land on an impressive lava flow where you can find pioneer plant species. After crossing this incredible lava flow, you can set off on a tour along some natural ponds where you can observe moorhens, ducks, frigates, pelicans, and occasionally, flamingos and Pied-billed grebes. If you observe the saltwater pools carefully, you may have the chance to spot reef sharks and sea turtles.
The Wall of Tears
(Muro de las lágrimas), which derives its name from history, is located 3 kilometres from the Puerto Villamil Port. Isabela Island, much like Floreana, was a penal colony until 1959. Prior to that date, the officers in charge forced prisoners to build this wall as a punishment, with dimensions of about a hundred metres in length and 10 metres in height, by using stones that weighed several hundred kilograms. As conditions were terrible, the prisoners had no choice: "tears or death."
Sierra Negra
Located on the heights of Isabela Island. This is a 16-kilometre hike (if it is done in full), that lasts about 5 hours on the Sierra Negra slopes and Chico volcanoes; the last eruption on the latter dates back to 2005. The spectacle is magnificent. If you descend into the Sierra Negra, you can walk over a lava desert, where only a few cacti grow.
Tagus Cove
found on the western side of the island; it is just across from Fernandina Island, where early sailors often anchored and inscribed the names of their boats on the rocks. You can take a boat trip near the cliffs that will allow you to spot Galapagos penguins, wingless cormorants, pelicans, and boobies. Besides, there are several places where you can jump into the sea with fins, mask, and a snorkel. A 2-kilometre trail through the incredible lava formations leads you to Darwin Lake, which is a saltwater lake that was formed in a crater.
Tintoreras
The Tintoreras islet, which is easily accessible from the Isabela Island port, allows you to observe an impressive colony of marine iguanas. A few sea lions, blue-footed boobies, and penguins occasionally get lost. Furthermore, in a channel formed by lava, we can observe whitetip sharks up close.
Urbina Bay
A marvellous site that was formed in 1954 by lava flows from the seabed presents incredible geological formations. Here, you can spot wingless cormorants, pelicans, Galapagos penguins, blue-footed boobies, marine and land iguanas, and hopefully giant tortoises. On the bay, you can spot rays and sea turtles. Besides, you will have a breath-taking view of the Alcedo Volcano.
Vicente Roca Point
Vicente Roca Point (Punta Vicente Roca), located to the north-west of Isabela Island, is wedged between two coves. This site offers a wide bay with caves that have spectacular marine life. You will be able to observe sea lions, sea turtles, and the strange and fascinating Mola Mola (also known as sunfish). No disembarking needed!
Cabo Rosa Tunnels
After a boat transfer of about 1h30, you will observe extraordinary landscapes drawn by rock formations worthy of Jules Verne's books. These lava tunnels are both submerged and emerged; they undulate on the surface of the sea like a snake. You will be able to observe, in these places, Galapagos penguins and blue-footed boobies. Return on board and simple picnic lunch on the boat.
You will then complete a swimming time with fins, mask and snorkel. You will enjoy the extraordinary seabed. You will swim among sea turtles, you will be very close to White Tip Sharks and you will have the chance to observe seahorses.