A very dynamic tour in Ecuador, dedicated to sports and thrill-seekers!
*10-day Outdoor-adventure tour, from $— per person [on a base of two people].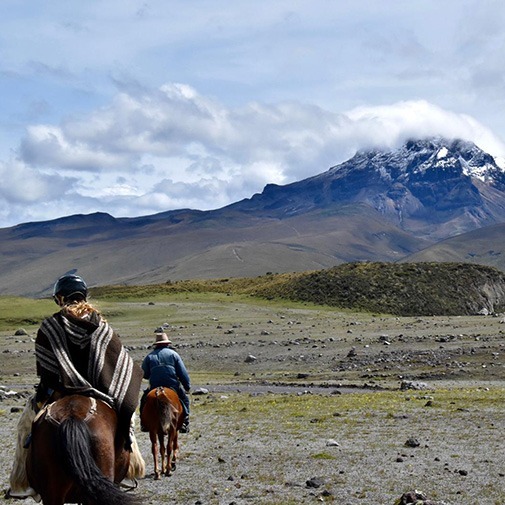 Fernando's feeling about this tour
Ecuador is particularly suitable for sports and outdoor activities and is full of exceptional natural sites that will allow you to live an unforgettable experience filled with adrenaline.
We have selected for you the best current spots for the practice of each activity: from rafting in the Amazon to the zip line, through night mountain biking, canyoning, and horseback riding in the wilderness, this stay promises you a succession of memorable experiences and physical challenges.
This program is planned over 10 days, due to its particular dynamic rhythm and adapted to challenges and nature lovers. However, it is quite possible to plan for a longer period, and planning additional activities that will take you to discover every corner of Ecuador in an original and adapted to your desires way. Prepare for a memorable adventure on this unique trip to Ecuador!
Physical Difficulty



Culture and Visits



Nature and Activities



Recommended for


Day 1
Day 2
Day 3
Day 4
Transfer-in to Quito
Quito visit > Nono > Mindo (night mountain biking)
Mindo (Cock-of-the-rock -bird whatching-, zip line and waterfall)
Mindo > Cotopaxi National Park
Day 5
Day 6
Day 7
Day 8
Cotopaxi National Park (horseback ride) > Baños
Baños (canyoning, city tour and the tree-house)
Baños > Pailón del Diablo > Tena > Amazon rainforest
Amazon rainforest (Rafting)
Day 9
Day 10
Amazon rainforest (Hike or horseback riding) > Tena > Quito
Departure transfer to Quito airport
Tour highlights :
– Fully private tour in the Andes and Amazonia with English-Speaking guide..
– A dynamic sports activities mix (horseback riding, rafting, zip line, mountain biking, etc.)
– Magnificent natural sites discovery (Cotopaxi Park, Baños, Amazonia, Mindo)
– A journey in constant contact with nature.
– Accommodation adaptable to your wishes and your budget.
– An extendable duration and rhythm we can adjust to your condition.