Total immersion in Ecuador's authentic people, cultural events, and picturesque landscapes!
*16-day Photography tour, from $— per person [on a base of two people].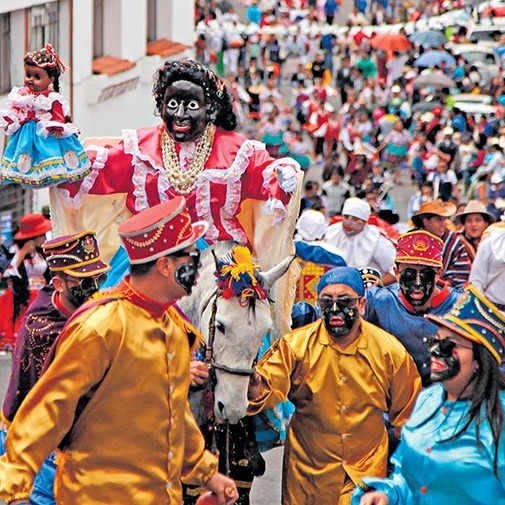 Fernando's feeling about this tour
Ecuador is the ideal country for photography enthusiasts. A typical destination for the omnipresent indigenous population, Ecuador offers four regions with landscapes as different as extraordinary. Between the Andes, the Amazon, the mainland Pacific coast, and the famous Galapagos Islands, Ecuador offers the possibility of organizing remarkable trips.
ITK voyage has created this private trip in Ecuador intended specially for experienced photographers. Indeed, this 16-day program will allow you to stay in the heart of the three mainland regions of Ecuador accompanied by a passionate guide.
Read more
Thanks to unique Ecuadorian events like the famous Corn and Yamor festivals, you will have the opportunity to mingle with the Ecuadorian local people. The accommodations during the stay are carefully chosen, and you will enjoy the magnificent dawns and sunsets, the sumptuous lights that impressive volcanoes hide behind, the immense Pacific Ocean, and the mystical Ecuadorian Amazon rainforest. Total immersion and with days designed for photography enthusiasts, you will end your stay with exceptional shots in hand. Even if we recommend this trip to Ecuador to photography enthusiasts, we can also adapt it to travelers who are looking for a cultural trip to Ecuador without necessarily knowing the constraints imposed on photographers to get the best shots.
Physical Difficulty



Culture and Visits



Nature and Activities



Recommended for


| Day 1: August 30th | Day 2: August 31th | Day 3: September 1st | Day 4: September 2nd |
| --- | --- | --- | --- |
| Arrival and transfer-in to Quito | Quito visit : Panecillo and Santa Clara market. | Quito > Cayambe (rose garden) > Peguche > San Clemente community | San Clemente community (El Chota valley) |
| Day 5: September 3rd | Day 6: September 4th | Day 7: September 5th | Day 8: September 6th |
| San Clemente > Cuicocha lake> Otavalo (Yamor festival) | Otavalo > Sangolqui (Paseo del Chagra) > Cotopaxi | Cotopaxi National Park> Chimborazo | Chimborazo reserve > Salinas de Guaranda > Guayaquil |
| Day 9: September 7th | Day 10: September 8th | Day 11: September 9th | Day 12: September 10th |
| Guayaquil > Puerto Lopez (the Spondylus route) | Puerto López (Isla de la Plata) | Puerto Lopez (whale watching) > Pile (Montecristi) > Flight to Quito | Quito > vol Lago Agrio > Amazon rainforest (Cuyabeno reserve) |
| Day 13: September 11th | Day 14: September 12th | Day 15: September 13th | Day 16: September 14th |
| Amazon rainforest (Cuyabeno reserve) | Amazon rainforest (Cuyabeno reserve) | Amazon rainforest (Cuyabeno reserve) > Lago Agrio > Flight to Quito | Departure from Quito |
Tour highlights :
– Optimal for photographers stay in Ecuador with local festivals and incredible landscapes.
– Entirely private trip in the Andes
– 4 days in the primary Amazon rainforest, in the heart of the Cuyabeno reserve
– Visit Quito, a colonial city classified as a UNESCO heritage.
– Visits to Cuenca, a colonial city classified as a UNESCO heritage site and among the most beautiful on the continent.
– 2 nights on the Pacific coast to observe humpback whales.
– 2 nights in an Indian community.