Take a look at our exclusive Galápagos cruise-selection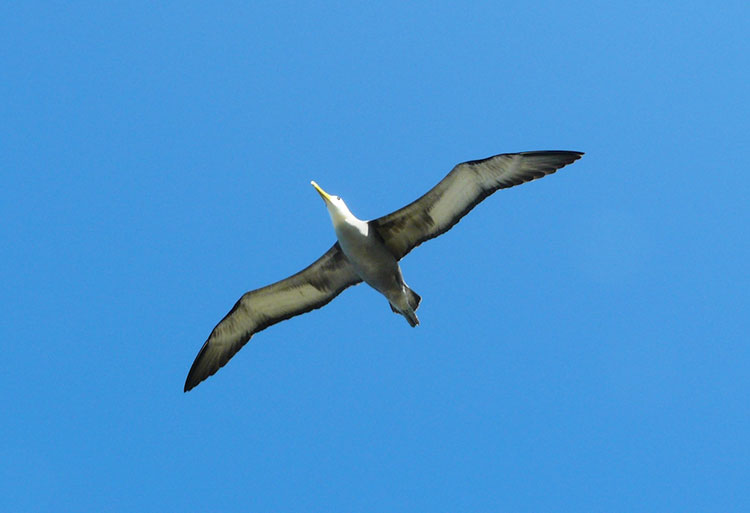 Genovesa Wildlife:
It is a long drive to Genovese Island, which is also called Tower, but it is definitely worth it, especially for bird lovers.
Due to its remoteness from the main habitable islands of the Galapagos, Genovese Island is only accessible by cruise ship. If you wish to discover this island, it will therefore be necessary to plan an itinerary that includes its visit during your stay in Ecuador.
Find out more...
General information
Being a small island that is located to the north-east of the Galapagos archipelago, Genovese is a fairly flat island (maximum altitude: 64m) that is largely isolated. It offers a huge and superb crater below, in which you can navigate. The impressive caldera walls form cliffs that are approximately 25 metres above sea level but plunge more than 60 metres underwater!
Although no recent eruption has been documented on Genovese Island, you will find fairly recent lava flows on the volcano sides.
In addition to this, Genovese is renowned for being home to the largest colony of red-legged boobies in the Galapagos, Nazca boobies that nest there from August to November, and a number of large frigates.
Main sites
El Barranco (Prince Philip' Steps)
Touring El Barranco, also known as Prince Philip's Steps, requires quite a long canoe trip. After disembarking at El Barranco, you can observe many masked boobies, fur seals, frigates, petrels, and Bahamian ducks. During this easy walk, you will cross a small area of Scalesia where you can observe the short-eared owl. The same path will bring you back to your boat as well.
Darwin Bay
This is the only sandy beach on Genovese Island. One must be careful since it is teeming with sharp coral. Consider carrying sandals or sneakers. Here, you can notably observe a huge colony of large Galapagos frigates basking along the beach. During the breeding season, the males present the red pouch under their beaks to the females with an intent to impress them. One can also note that the nests of these red-legged boobies are found in trees unlike the other two booby species that nest on the ground itself! Besides, it is possible to go snorkelling, where you can occasionally spot hammerhead sharks.