Take a look at our exclusive Galápagos cruise-selection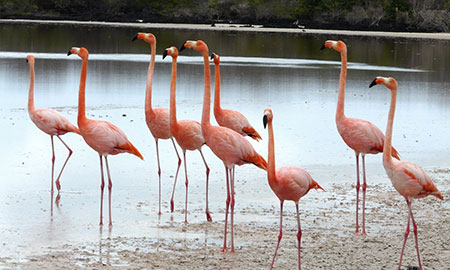 Floreana Wildlife :
Floreana Island is no longer an active volcanic island. Ancient eruptions and erosion gave this Galapagos island an uneven surface. It is now largely covered with a forest of Palo Santo.
Island Floreana is also famous for its pirate caves and for its Galapagos tortoise reserve.
Find out more...
General information
Having been the first Galapagos island to be inhabited by humans, it is now the fourth and last inhabited island of the Galapagos archipelago; there, you will find many human-introduced species. Today, you will find only a handful of locals at the Velasco Ibarra port.
Floreana Island has a troubled past. Indeed, after having been an Ecuadorian penal colony, three groups of German settlers settled there in the 1930s, including Baroness Von Wagner and her three lovers. She and her suitors disappeared under strange conditions, and over the years, a number of theories have emerged.
Main sites
Baroness Point
Located on the northern shore of Floreana Island in La Olla Bay. This is a basaltic tuff formation that lies exactly between Cormorant Point and Post Office Bay. Generally, a canoe trip can be planned to observe the various marine species in the area such as rays, sea turtles, sea lions, penguins, etc. This site is particularly interesting because in addition to offering superb landscapes, it is steeped in history. Indeed, Baroness Point is famous for the letters that Baroness von Wagner wrote wherein she stated her adoration for the place, and admitted to having spent long moments observing the ships pass the island.
Cormorant Point
Punta Cormorant, is where a magnificent white sand beach welcomes us. From there, one can visit a nearby lagoon where several flamingos can be spotted. Although Punta Cormorant is named after a famous American military ship, you will not spot a cormorant there as the name might imply. Instead, several flamingos can be seen at Cormorant Point. The sand there is greenish in colour due to the large deposits of a volcanic mineral called olivine. Often, sea lions play with the many seashells that litter the beach. A short trail starts with crossing the black mangrove swamp before reaching the lagoon just behind. The littoral vegetation there is remarkable, especially the two plants that are unique to Floreana Island: a species of daisy (Leocarpus pinnatifidus), and a species of climbing daisy (Scalesia villosa).
Devil's Crown
An eroded volcanic cone, has been "pierced" by the sea to form a shallow water reservoir within a crown that gives the impression of tearing the ocean apart. Corals that are found here are teeming with reef fish such as parrot fish. Underwater caves are also present. If you jump into the water, beware of strong currents; it is a current that is often used by hammerhead sharks.
Post Office Bay
a famous site where 18th century whalers used a wooden barrel as a post office so that mail could be picked up and sent to its destination, primarily to Europe and the United States. Cards and letters are always placed in the barrel by tourists. The following visitors each pick up a letter to send afterwards!
Floreana Island is also famous for its pirate caves and the Galapagos tortoise reserve.