From the stunning Quilotoa to the imposing Chimborazo volcano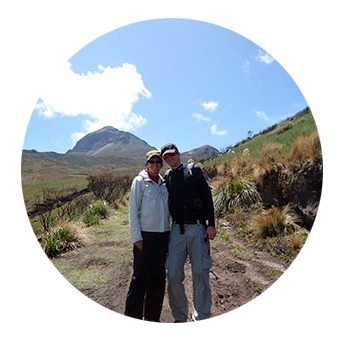 ANTOINE'S WORD OVER THIS TOUR
This is actually the first part of the hiking & trekking program. Across magnificent landscapes you will experience the Andes elevation and unevenness.
This trekking trip will take you, in 6 days, to the heights of Ecuador. Trekking in the Andes, accompanied by your English-speaking guide and always surrounded by impressive volcanoes as the Chimborazo (6300m), you will cross magnificent and exotic Andean landscapes.
Read more
We particularly like the Vicuñas Trek even if the trekking between Quilotoa lagoon and Isinliví also offers superb landscapes. You will walk to the sound of the forest on a somewhat difficult route. You will spend a night in a very pleasant lodge to rest before the upcoming "deadlines". This is an adventure break for travelers seeking peace and natural spaces during a trek trip in South America.
Physical Difficulty



Culture and Visits



Nature and Activities



Recommended for


| Day 1 | Day 2 | Day 3 |
| --- | --- | --- |
| Quito > Zumbahua (Indigenous Market) > Quilotoa Loop (Day 1) | Quito >Quilotoa Loop (Day 2) > Riobamba | Riobamba > Vicuñas Trek (Day 1: First sight of the Volcano) |
| Day 4 | Day 5 | Day 6 |
| Vicuñas Trek(Day 2: You will pass to the other side of Chimborazo) | Vicuñas Trek(Day 3: The hardest but most beautiful day) | Vicuñas Trek (Day 4: Descend) > Quito |
Tour highlights :
– Completely private trekking tour in Ecuador, in the Andes, with your English-speaking guide.
– 6 days of trekking in South America -in exceptional natural sites-.
– Vicuña trek around the Chimborazo volcano (6300m).
– 2 days of trek in the Toachi canyon.
Valid prices until December, 2023
Comfort Category
"$—"
Price per person / base of two people
Prices change depending on group size
Superior Category
"$—"
Price per person / base of two people
Prices change depending on group size
Luxe Category
"$—"
Price per person / base of two people
Prices change depending on group size